Welcome!
I work with an impact fund which invests in for-profit organizations which are striving to change the scene of education among the needy and poor while making profits. Though I can say that indirectly I am contributing to the cause of education, with time I have felt the need of directly being the part of a positive change.
For me, running the Chicago marathon with Asha for Ed team would be like beginning to walk a path where I see myself contributing to educating my fellow society members.
Also, I have been part of a team of 'fund-givers', I would now like to embrace the challenge of fund-raising and see the other side of the world.
How your funds will be used? Your funds will go to the project "Aralu-Belaku", which is supported by Asha for Education, Chicago chapter. This project supports a residential home for about 25 children in the state of Karnataka, India. The children residing here are primarily from the Dalit communities and come from a variety of backgrounds including single mothers who work for minimum wage, parents who are unable to provide basic care for the family and in some cases are, children who do not have parents. The annual cost per child for a home, basic facilities and support for their education, to prevent them from dropping out from school is about $850.
Goal: I hope to raise funds to provide a home to five children for a year who wish to stay in school and complete their education, which is $4,000. The detailed budget is attached at the end for your discretion.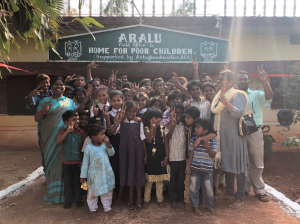 About Asha for Education:
We're a fully volunteer-run 501c3 non-profit, focused on providing education to the underprivileged kids in India. You can check all the projects supported by Asha, Chicago on the website. Please consider supporting us by donating here.
If you are feeling extra generous, please consider sharing my page with your network or check with your employer if they will match your donation to make the most out of your generosity.
Thank you for your support!
Below is the detailed Annual Budget: