Welcome! 
I am very excited to run my first marathon with Team Asha. After I spent some time in Hyderabad, I returned home wanting to find a way to support children and education in India while living in Chicago. Asha for Education has provided me that opportunity.
I recently graduated from university and am looking forward to training for the marathon with other Team Asha runners!
Asha for Education is well-known for their excellent work in helping children in poverty-stricken areas in India have access to opportunities and basic facilities to bolster their education. Raising funds for team ASHA through the Bank of America (BoA) Marathon is an excellent platform to raise awareness of the conditions of the livelihood of these underprivileged children in India and make a difference in their lives by contributing to their education.
How your funds will be used? Your funds will go to the project "Aralu-PPC", which is supported by Asha for Education, Chicago chapter. This project supports a pre-primary care (PPC) center for about 30 children (ages 3-6) in a small village in the state of Karnataka in India. The primary occupation of parents of the children who attend the pre-primary care center are laborers, whose sites of work are mostly unsafe for young children. Aralu-PPC provides a safe environment and a platform for basic education for these children, who would otherwise be neglected while their parents are at work. The annual cost per child for basic education and a safe haven while their parents are away at work is $200.
Goal: I hope to raise $6000 to provide a pre-primary care center in for 30 children for a year. The detailed budget is attached at the end for your discretion.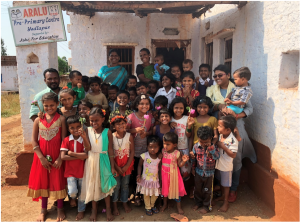 About Asha for Education:
We're a fully volunteer-run 501c3 non-profit, focused on providing education to the underprivileged kids in India. You can check all the projects supported by Asha, Chicago on the website. Please consider supporting us by donating here.
If you are feeling extra generous, please consider sharing my page with your network or check with your employer if they will match your donation to make the most out of your generosity.
Thank you for your support!
Below is the detailed Annual Budget: