Welcome!
Life is all about the goals you set and achieving them. When you set a goal for a good cause, your entire ecosystem supports you and propels you to achieve it. Asha for education works for such a good cause. Being born and brought up in India, coming across less privileged ones is more likely. I am always compelled to work for these people and making society a little more just and fair. Participating in such a cause, where I will be able to actively contribute to someone's education inspires me. This is just a small beginning to be a part of a happy society.
How your funds will be used? Your funds will go to the project "Aralu-Belaku", which is supported by Asha for Education, Chicago chapter. This project supports a residential home for about 25 children in the state of Karnataka, India. The children residing here are primarily from the Dalit communities and come from a variety of backgrounds including single mothers who work for minimum wage, parents who are unable to provide basic care for the family and in some cases are, children who do not have parents. The annual cost per child for a home, basic facilities and support for their education, to prevent them from dropping out from school is about $850.
Goal: I hope to raise funds to provide a home to five children for a year who wish to stay in school and complete their education, which is $4,000. The detailed budget is attached at the end for your discretion.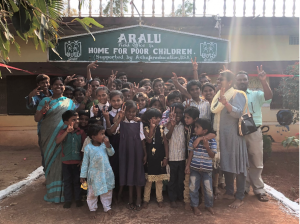 About Asha for Education:
We're a fully volunteer-run 501c3 non-profit, focused on providing education to the underprivileged kids in India. You can check all the projects supported by Asha, Chicago on the website. Please consider supporting us by donating here.
If you are feeling extra generous, please consider sharing my page with your network or check with your employer if they will match your donation to make the most out of your generosity.
Thank you for your support!
Below is the detailed Annual Budget: