Welcome!
I am Jayaprakash Venugopal.I started running in 2013 with just fun in mind & to experience the feel of touching the finish line. Slowly, it became a passion and I was motivated to run longer distances. I have participated in 15+ events till now, including the internationally acclaimed "Chicago Marathon" in 2017.
From running for fun, to running for passion, I now am excited to run for a good cause. In 2018, I plan to participate in the "Chicago Marathon", as a part of Team Asha for Chicago non-profit "Asha For Education" which helps to catalyze socio-economic change in India through the education of underprivileged children.
"Education is a basic need for all humans. It enlightens you, builds your life, can be the basis of morale in tough times, and builds a strong society for all to live in. Help me in my effort, and together we can bring light to the needy."
How your funds will be used? Your funds will go to the project "Gramya Sansthan", which is supported by Asha for Education, Chicago chapter. This project provides free education to 575 underprivileged kids in a village in Uttar Pradesh, India. The annual cost to educate one child is $60.
Target: I hope to raise $6000 to support the education of 100 kids for a year. The detailed budget is attached at the end for your discretion.                 
School kids at the Education Center, Gramya Sansthan, UP, India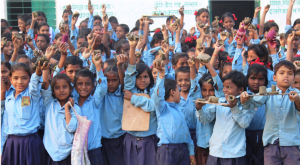 A little about Asha for education –
We're a fully volunteer-run 501c3 non-profit, focused on providing education to the underprivileged kids in India. You can check all the projects supported by Asha, Chicago on the website. Please consider supporting us by donating here.
Please consider donating to my cause.
If you are feeling extra generous, please consider sharing my page with your network or check with your employer if they will match your donation to make the most out of your generosity.
Thank you for your support!
Below is the detailed Annual Budget: