One of the biggest reasons of widespread poverty is the lack of education in millions of children and adults. Lack of education in a community directly renders it incapable of performing tasks through which they can earn money (or at least good amount of money). This translates into lack of economic growth and even exploitation of the community in question.
Education is one of the most powerful instruments for reducing poverty and inequality and a catalyst that can help those on the unfortunate side of the spectrum to reach higher. Therefore, ensuring access to quality education for all, in particular for the poor and rural population, is central to the economic and social development. Nelson Mandela once said, "Education is the most powerful weapon which you can use to change the world".
ASHA for Education is a non-profit organization working to bring social-economic development in India through the education of under privileged children.
As a passionate marathon runner – I will be running Chicago Marathon in Oct 2020 with Team ASHA – an education NGO supporting under privilege kids in India. My goal is to raise minimum $1750 for a charity and need your help to achieve it. Your funds will go to the projects supported by ASHA for Education, Chicago chapter.
My marathon run will be dedicated to the people like you who believe in education and empowering lives of poor children. I hope you will join me in supporting this great organization and improving the lives of many under privileged children.
How your funds will be used? Your funds will go to the project "Swadhar", which is supported by Asha for Education, Chicago chapter. This project target drop-outs and corporation school-going children, adolescents and their parents in the slum areas of Bibvewadi area in Pune. The annual cost to educate one child is $60.
Project Description
A community center for underprivileged children and young adults.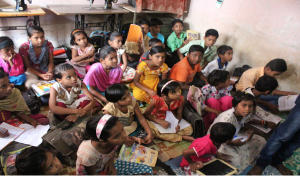 The community center's goal is to provide several activities through the day as follows:
– The day will start with Abhyasika (study period) from 8 am – 10 am, supervised by a teacher.
– The Non-formal education classes and Balwadi will be held from 10am-2pm.
– Training for adolescents will be provided from 2pm-4pm. The vocation chosen for the training will vary depending on local needs and interests.
– Library service will be open from 4pm-6pm.
– Finally, the day will end with another session of Abhyasika from 6pm-8pm.
Project Goals
1) Abhyasika study class and reference library for low-income school going group.
2) Non-Formal Education (NFE) classes for drop-out children with an aim to get admission into the mainstream school.
3) Life skills education for adolescent girls.
4) Library resources for home-lending to children, adolescents, and parents.
Corporate Matching: You can maximize the impact of your donation by getting it matched by your company. Most of the companies match donations from employees to Asha for Education. You can verify on the confirmation webpage after you donate to verify if your company matches the donation. All donations are 100% tax deductible (Tax ID: 770 45 9884).