Welcome!
It has always been my dream to help improve the education system for underprivileged children and children in rural areas, but I was never sure of how to achieve this goal. When I heard about the excellent work that ASHA has been doing for the education of underprivileged children in India, and how I could make an immediate contribution, I got very excited! Even though I have harbored a desire to run a marathon for a long time, it never seemed motivating enough for me to take up the challenge until now. Raising funds for Asha for Education is an amazing way to achieve both my goals, which require a lot of determination and stamina and most of all, your support.
How your funds will be used? Your funds will go to the project "Navjyoti Swawalamban Seva Sansthan" school, which is supported by Asha for Education, Chicago chapter. This project school provides free education to approximately 250 underprivileged kids in Nagepur village in Uttar Pradesh, India. The annual cost to educate one child is $54.
Goal: I hope to raise funds to educate 100 kids for a year, which is $5,400. The detailed budget is attached at the end for your discretion.
Navjyoti School kids at the Asha Nagepur School, UP, India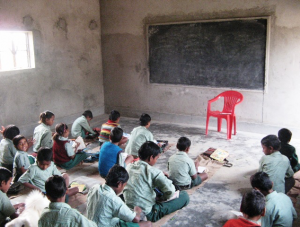 A little about Asha for education –
We're a fully volunteer-run 501c3 non-profit, focused on providing education to the underprivileged kids in India. You can check all the projects supported by Asha, Chicago on the website. Please consider supporting us by donating here.
Please consider donating to my cause.
If you are feeling extra generous, please consider sharing my page with your network or check with your employer if they will match your donation to make the most out of your generosity.
Thank you for your support!
Below is the detailed Annual Budget: