Namaste Chicago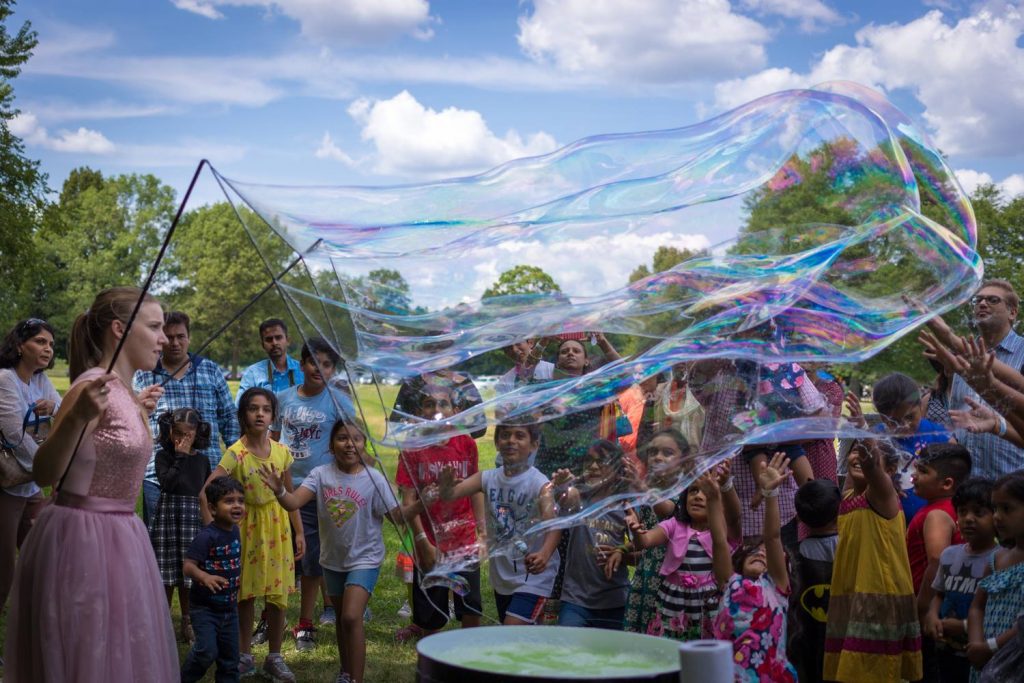 Families and friends gathered on July 28th for Namaste Chicago, a summer celebration with Indian flair. Food, music, jewelry, henna, kite flying, and even a fashion show and a bubble show kept guests busy from mid-morning to evening. But it was not all fun and games; attendees knew their ticket price educated underprivileged children in India. Every $60 raised at Namaste Chicago funded an entire year of education for one child.
Covering several groves of Busse Woods, Namaste Chicago offered an open space for a community to gather, relax, and support a worthy cause.  Kids rushed to the bouncy house as soon as it was raised, and, with boundless energy, stayed until it was deflated. Adjacent, adults settled into picnic tables, sharing homemade food supplemented with the tempting treats served by vendors.  With an additional donation, guests purchased kites to fly. When handed a kite, guests also selected a profile of a child that the donation would support; learning the names and school years of the children brought the cause closer to home. Just a $30 gift covered six months of support and $60 would cover a whole year. Late in the afternoon, kites were dancing across the sky. For those who missed the event, sponsorships can also be set up online at chicago.ashanet.org/support-a-child.
Across the road stood the Asha for Education booth. Colorful signs displayed the locations, goals, successes, and needs of each of the five projects that the Chicago chapter supports. Volunteers at the booth supplied additional information about the organization and free spiced buttermilk, leaving guests who visited refreshed in both mind and body.
After a relaxed start to the day, guests joined together for the much-anticipated bubble show. Captivating both young and old audiences alike, the host showed off a range of creations from traditional spheres to smoke bubbles and for a few lucky kids, bubble mohawks. Not long after, a red carpet became the new focal point.  The kids' fashion show was about to begin. Contestants ranged from 2-12 years of age, sporting everything from fancy party dresses to Batman capes. As the music started, some shyly sauntered while others struck bold poses. After a round or two on the catwalk, to boisterous applause and many camera clicks, each contestant was awarded a certificate and a goody bag.
As evening approached, energies wound down, families and friends waved farewell, and volunteers and vendors packed up. It was a day well spent.
—-
Asha for Education is a 501(c)(3) non-profit charitable organization. which helps projects in India to provide education and a safe childhood for underprivileged children in India. All proceeds of Namaste Chicago helped fund this cause. Find out other ways to contribute at chicago.ashanet.org.