Welcome!!
The Team Asha program is about educating the underprivileged kids in India by using the funds raised by the runners of the team, who are in turn provided top-notch coaching and support by volunteers, to achieve their long distance running goals and improve their fitness levels. Inspired by this win-win model, I'm thrilled to start my seventh year of running in 2019 with the Asha program. I'm excited to train for and run one of the prestigious marathon – Chicago full marathon!!!
How your funds will be used? Your funds will go to the project "Aralu-PPC", which is supported by Asha for Education, Chicago chapter. This project supports pre-primary care (PPC) center for about 30 children (ages 3-6) in a small village in the state of Karnataka in India. The primary occupation of parents of the children who attend the pre-primary care center are laborers, whose sites of work are mostly unsafe for young children. Aralu-PPC provides a safe environment and a platform for basic education for these children, who would otherwise be neglected while their parents are at work. The annual cost per child for basic education and a safe haven while their parents are away at work is $200.
Goal: I am targeting to raise $6000 to provide a pre-primary care center in for 30 children for a year.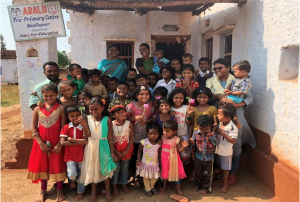 No amount is small!
$10 covers food for one kid at Aralu PPC for 30 days!
$50 helps cover the salary of a teacher at Aralu PPC for a month!
$100 covers books for all kids for a whole year!
$200 makes sure all kids have their learning shelter for 6 months!
$500 covers food for all kids at Aralu PPC for a whole month!!
About Asha for Education:
We're a fully volunteer-run 501c3 non-profit, focused on providing education to the underprivileged kids in India. You can check all the projects supported by Asha, Chicago on the website. Please consider supporting us by donating here.
If you are feeling extra generous, please consider sharing my page with your network or check with your employer if they will match your donation to make the most out of your generosity.
I hope you will be able to wish me well and support the good cause 'Asha for Education'.
Thank you for your support!