Welcome!!
Education is perhaps the glue that can both elevate people and bring the society together. Parochialism persists in the face of literacy, but education makes people progressive, respectful, liberal and helps foster safe and secure lives. Education makes society prosper. I have been blessed with getting an education from some of the finest institutions at all stages of my life. I want to help support others in their quest to fulfill their potential most easily through financial aid, but more substantially through mentoring and lifelong support. Asha is known for its wholehearted support of educators and students, and I am running my FIRST marathon to raise awareness for Asha for Education – Desire for Education!
How your funds will be used? Your funds will go to the project "Aralu-Belaku", which is supported by Asha for Education, Chicago chapter. This project supports a residential home for about 25 children in the state of Karnataka, India. The children residing here are primarily from the Dalit communities and come from a variety of backgrounds including single mothers who work for minimum wage, parents who are unable to provide basic care for the family and in some cases are, children who do not have parents. The annual cost per child for home, basic facilities, and support for their education, to prevent them from dropping out of school is about $850.
Goal: I hoping to raise funds to provide a home to five children for a year who wish to stay in school and complete their education, which is $4,000.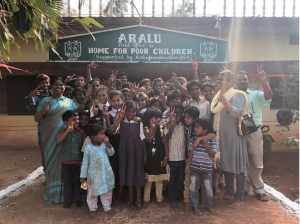 About Asha for Education:
We're a fully volunteer-run 501(c)(3) non-profit, focused on providing education to the underprivileged kids in India. You can check all the projects supported by Asha, Chicago on the website.
Please consider supporting us by donating here.
If you are feeling extra generous, please consider sharing my page with your network or check with your employer if they will match your donation to make the most out of your generosity.
Thank you for your support!