Welcome!!
I was fortunate to get a good education that has made me aware of my rights as well as duties as a human in society. I genuinely believe that education is society's solution to its problems, such as crime, poverty, and gender inequality.
How your funds will be used? Your funds will go to the project "Swadhar", which is supported by Asha for Education, Chicago chapter. This project target drop-outs and corporation school-going children, adolescents and their parents in the slum areas of Bibvewadi area in Pune. The annual cost to educate one child is $60.
Target: I am targeting to raise $6000 to support the education of 100 kids for a year.
Project Description
A community center for underprivileged children and young adults.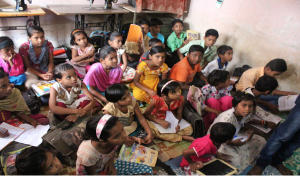 The community center's goal is to provide several activities through the day as follows:
– The day will start with Abhyasika (study period) from 8 am – 10 am, supervised by a teacher.
– The Non-formal education classes and Balwadi will be held from 10am-2pm.
– Training for adolescents will be provided from 2pm-4pm. The vocation chosen for the training will vary depending on local needs and interests.
– Library service will be open from 4pm-6pm.
– Finally, the day will end with another session of Abhyasika from 6pm-8pm.
Project Goals
1) Abhyasika – study class and reference library for low-income school going group.
2) Non-Formal Education (NFE) classes for drop-out children with an aim to get admission into the mainstream school.
3) Life skills education for adolescent girls.
4) Library resources for home-lending to children, adolescents, and parents.
A little about Asha for education –
We're a fully volunteer-run 501c3 non-profit, focused on providing education to the underprivileged kids in India. You can check all the projects supported by Asha, Chicago on the website. Please consider supporting us by donating here.
Please consider donating to my cause.
If you are feeling extra generous, please consider sharing my page with your network or check with your employer if they will match your donation to make the most out of your generosity.
Thank you for your support!