Welcome!!
Hi! This is Srinivasarao Gadde from Hyderabad, India. It's been six years since I took up running and I've never really stopped since then. The first time I hit the tarmac was for a 10K run in 2012. A year later in 2013, I signed up for my first Half Marathon after an event organizer dropped by at my office to drum up support for the event. That was the first time I heard about 'Half Marathon' and 'Full Marathon'. What started off as a fitness regime developed gradually over the years into an unstoppable lifetime passion.
I did my first Full Marathon in 2014, clocking in at 4:38:07. Ever since, I've developed an insatiable appetite for logging miles, having participated in 33 events so far(26 Full Marathons & 7 Ultra Marathons) with a Lifetime Mileage Total of 7600+ km. I've participated in several city marathons: Hyderabad, New Delhi, Mumbai, Dubai, Tokyo, and Berlin editions, to name a few, and I'm proud of the fact that I've never had a DNF (Did Not Finish) moment. My PB is 3:42:46. My longest run till date is the 'Comrades Ultra Marathon' (90 Kms) this year (2018) at Durban, South Africa where I clocked 09:58:20.
While I've been marathoning out of passion and for the sheer joy of pushing through the distance, I feel that combining my passion with a good cause makes my pursuit more meaningful. I now wish to participate in the 'Chicago Marathon – 2019', as a 'Team Asha' runner and support Asha for Education 501c3 non-profit endeavor to catalyze socio-economic change in India through education for underprivileged children.
For a country like India where over 50% of the 400 million children aged between 6 and 18 years cannot afford an education, it becomes our collective responsibility to support this underprivileged lot. The Chicago Marathon gives me an opportunity to be a front-runner for Asha Foundation's cause and to make a difference to the lives of these kids. I need your support. And I need it for these little angels – the future of our nation – who deserve better. Do chip in if you can.
How your funds will be used? Your funds will go to the project "Aralu-Belaku", which is supported by Asha for Education, Chicago chapter. This project supports a residential home for about 25 children in the state of Karnataka, India. The children residing here are primarily from the Dalit communities and come from a variety of backgrounds including single mothers who work for minimum wage, parents who are unable to provide basic care for the family and in some cases are, children who do not have parents. The annual cost per child for home, basic facilities, and support for their education, to prevent them from dropping out of school is about $850.
Goal: I hoping to raise funds to provide a home to five children for a year who wish to stay in school and complete their education, which is $4,000.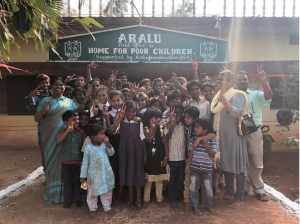 Please consider supporting us by donating here.
If you are feeling extra generous, please consider sharing my page with your network or check with your employer if they will match your donation to make the most out of your generosity.
Thank you for your support!