Welcome!!
Knowledge is power, information is liberating, education is the premise of progress in every family, in every society- Kofi Annan.  
Education helps in providing strong roots needed for empowering the youth. It is one of the pillars that the society needs for a stronger and more united world that we are much in the need of.  
I have had a fortunate enough life where I grew up in a family who provided me with everything so that I could get the best of education and was motivated by my parents to pursue my passion. Through the years I have realized that not everyone is fortunate enough to get an opportunity for a good education. So, I thought that it's now my turn to pay it forward and what better way but to use my passion for running and put it to good use…'Run for a good cause'!
After running multiple 5K's, 10K's and half marathons over the last 2 years I will be running a full marathon at the 'BOA Chicago Marathon' on October 13th, 2019 for the very first time.
How your funds will be used? Your funds will go to the project "Swadhar", which is supported by Asha for Education, Chicago chapter. This project target drop-outs and corporation school-going children, adolescents and their parents in the slum areas of Bibvewadi area in Pune. The annual cost to educate one child is $60.
Target: I am targeting to raise $6000 to support the education of 100 kids for a year.
Project Description
A community center for underprivileged children and young adults.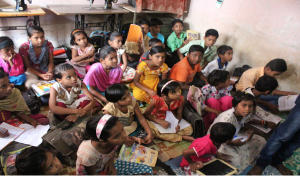 The community center's goal is to provide several activities through the day as follows:
– The day will start with Abhyasika (study period) from 8 am – 10 am, supervised by a teacher.
– The Non-formal education classes and Balwadi will be held from 10am-2pm.
– Training for adolescents will be provided from 2pm-4pm. The vocation chosen for the training will vary depending on local needs and interests.
– Library service will be open from 4pm-6pm.
– Finally, the day will end with another session of Abhyasika from 6pm-8pm.
Project Goals
1) Abhyasika study class and reference library for low-income school going group.
2) Non-Formal Education (NFE) classes for drop-out children with an aim to get admission into the mainstream school.
3) Life skills education for adolescent girls.
4) Library resources for home-lending to children, adolescents, and parents.
A little about Asha for education –
We're a fully volunteer-run 501c3 non-profit, focused on providing education to the underprivileged kids in India. You can check all the projects supported by Asha, Chicago on the website. Please consider supporting us by donating here.
Please consider donating to my cause.
If you are feeling extra generous, please consider sharing my page with your network or check with your employer if they will match your donation to make the most out of your generosity.
Thank you for your support!